| | | |
| --- | --- | --- |
| MP3's Utilities | | |
MP3's Utilities, is a package which contains 6 different applications. MP3 Organizer (the most important) MP3 Browser, MP3's List, MP3s Mover, Upgrade and Integrity Viewer. All these six are part of the package, Translator on the other hand, is not part of it. Let's explain them separately.
| | | |
| --- | --- | --- |
| MP3 Organizer | | |
This is the main application. You'll be able to organize all your MP3s, from the very moment you set the path where you save them. You'll also be able to have them sorted by Title, Artist, Album, Year, Comment, Genre, Path and could also load Winamp's playlists (.M3U files). You can edit their tags, and have them played (through Winamp) with a double-click over the file.
You can also "export" (make a copy of the selected files) to any folder you want. Say you want to burn all your Rock Music in a CD, you sort your MP3s by genre, you ask for 'Rock', and would have all your Rock music listed. To do that you would sort your MP3s by genre and ask for 'Rock'. You would then select them, and export them to a temp folder. All you have to do now is to burn your CD with these files and you're done.
Search function (using any or all of the fields) of the words you want (with 'OR', 'AND' & 'Exact Phrase' type of search)
Screenshot:

(click on the image to see a bigger image)
| | | |
| --- | --- | --- |
| MP3 Browser | | |
This application's User Interface (UI) uses WinAmp's skin. You can let the browser use the same skin as WinAmp, set its own or set WinAmp's skin through its interface. MP3 Browser would let you browse among your files and have them play with a click. All the other features, such as Tag editor, search function, etc. are not available through its interface but they are still available on MP3 Organizer

MP3 Browser's screenshot
(Click on the image to enlarge)
| | | |
| --- | --- | --- |
| MP3's List | | |
This application will create some files with all the MP3s you have. A text file (.TXT), a Word file (if selected in the settings) and an Excel file (if selected in the settings). It will also let you save these files into the syncronization folder of your Pocket PC (Windows CE) handheld so... you'll be able to have the list in your handheld automatically!!
| | | |
| --- | --- | --- |
| MP3 Mover | | |
This application will move the MP3s file from the path where you download them (from Internet) to the path where you save all your MP3 files. It will also notify to MP3 Organizer about the new file(s) to be added into its database.
| | | |
| --- | --- | --- |
| Upgrade | | |
From time to time, you could receive a database named "To Upgrade.mdb". This file will be the lastest version of the database. You'll need this new file to get your new version working. Upgrade.exe will import all the information you had on your database to this new database.
| | | |
| --- | --- | --- |
| Integrity Viewer | | |
Integrity Viewer is an application that will let you see the "problems" that occurred when trying to find the ID3 tags information. Even though the files get added to the database anyway, the Integrity Viewer will show you the problems that existed with the files. You can use this application to select these files and create their tags out of their filename using a mask that you can set. e.g.: If your file is named "U2 - Where the streets have no names" you can set a mask as "Artist - Title" and have the tags created automatically.
| | | |
| --- | --- | --- |
| Translator | | |
Translator is an application which will let you translate the original file into the language you want with a friendly user interface. It's easy to use, and you will have much more information to know what you're translating than reading caption's file directly.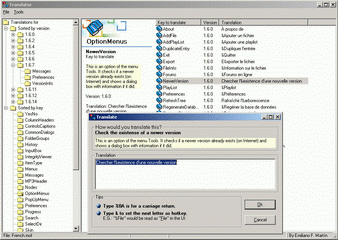 Translator's screenshot
(Click on the image to enlarge)
Check the downloads page to get the package.